Adwait Yoga School's 200 hours Yoga Teacher Training Course, is 5 weeks program, certified by World Yoga Alliance, offers the comprehensive knowledge of yoga teacher training, theoretically and practically. It offers hands-on training program that includes all the important elements of yoga i.e. asana, pranayama, mudra, bandha, kriyas, practical anatomy, adjustment, alignment, mantra chanting, meditation and other traditional yoga techniques.
This course is for anyone who has ardent desire for self-knowledge and deepening of the Yoga Sutras and yogic techniques. You can be a yoga practitioner, a teacher who wants to learn more, sharpen your knowledge more, or you may be new to yoga, whatever the case may be, the teacher training course will provide you a complete knowledge of Yoga and its aggregates. Students will develop the skills to teach yoga as well as improve their own personal growth.
You can experience the wonderful Yogic environment at Adwait Yoga School, New Delhi, India, while learning the Yoga Teachings. You will also experience the much-needed blend of Traditional Yoga teachings along with physically fulfilling asana practices.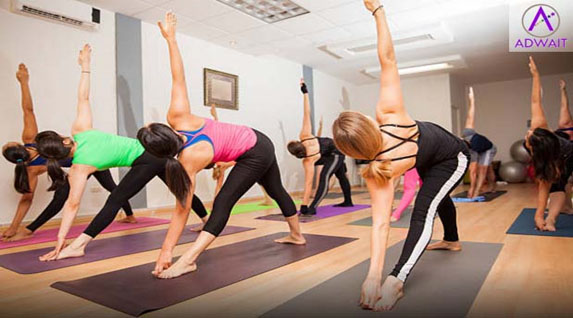 Adwait Yoga School aims to bring the authentic and best teachings of yoga from the most respected schools worldwide in an encapsulated program that will make proficient & confident teachers capable of teaching anywhere in the World and to a diverse audience.
Most importantly, you will be taught in a spirit of humility and love that epitomizes the true spirit of yoga – something that you would be expected to carry forth in your teachings to other students…
Batch Strength: 15 Students
Fee: INR 50,000.
Venue: Yogdhara, A-2/58, LGF, near Green Fields School, Safdarjung Enclave, New Delhi-110029
Fee inclusions:
Tuition fee
Study material + mandatory text
Access to additional Books for reference
Fee exclusions:
Lodging, Boarding, Foods (can be arranged on request at extra cost)
Transfers (can be arranged on request at extra cost)
Other personal requirements
Anything not specifically mentioned in Inclusions
Interested?
Please submit your information to us by filling the form below:

Error: Contact form not found.
Topics covered during 200 YTTC program:
Techniques, Training and Practice (TTP)    
TTP 101 – Group Asana Practice with basic asana series
TTP 102 – Basic Standing and Balancing Postures
TTP 103 – Basic Sitting Postures
TTP 104 – Basic Twisting Postures
TTP 105 – Forward – Backward Bending Postures
TTP 106 – Arm Balancing Postures
TTP 107 – Stabilizing Postures
TTP 108 – Hip Opening Postures
TTP 109 – Inverted Postures
TTP 110 – Restorative Postures
TTP 111 – Classic Sun Salutations
TTP 112 – Shatkarma kriya
TTP 113 – Introduction to Mudras
TTP 114 – Basic Pranayama Series
TTP 115 – Mantra and Meditation
TTP 116 – Yoga Nidra 1 st level
TTP 117 – Bandhas and Drishti
Teaching Methodology (TM)
TM 201 – Adjusting & Assisting Yoga Asana
TM202 – Exclusive Populations
TM203 – Creative & Effective Sequencing
TM204 – Theming
TM205 – The Business of Yoga
Anatomy & Physiology (AP)
AP 301 – Yoga Anatomy and Physiology
AP 302 – Energetic Anatomy
AP 303 – Yogic Chikitsa
Yoga Philosophy/ Lifestyle Ethics (YPLE)
YPLE 401 – The Eight Limbs,Philosophy, & History of Yoga
YPLE 402 – The Language of Yoga (Sanskrit)
YPLE 403 – Ayurveda: The Yogic Diet & Lifestyle
YPLE 404 – Yoga Ethics
YPLE 405 – Karma Yoga
Techniques, Training and Practice – TTP
Through Techniques, Training and Practice ( TTP ) you will learn Group Asana Practice, Standing and Balancing Postures, Sitting Postures, Twisting Postures, Forward Bending and Backward Bending Postures, Arm Balancing Postures, Stabilizing Postures,Hip Opening Postures, Inverted Postures, Restorative Postures, Classic Sun Salutations, Shatkarma kriya, Introduction to Mudras, Mantra and Meditation, Yoga Nidra, Bandhas and Drishti. Through these techniques, training and practice you will learn how to teach and practice the techniques, but also observe and analyze yourself.
Anatomy and Physiology – AP
In the Anatomy and Physiology (AP) we will focus on the structure of the body as a whole, including the nervous system, cardiovascular system, circulatory system, skeletal system and muscular system. In Energetic yoga we will focus on the subtle body, vayus, koshas, chakras, nadis, gunas and dosha.We will approach each student considering to which stage they are on on their path of healing and discovery of themselves. Our discussions will include: therapeutic asana modifications, pranayama, anatomy, mudras, kriya, yoga nidra, positive affirmation and meditation. We will teach our students how these techniques can heal their future clients, so that they can educate them about the empowering field of yoga Chikitsa. We will also focus on how to work with clients who suffer from different health issues.
Teaching Methodology – TM
In teaching methodology (TM) we will focus on principles of demonstration, observation, assisting and correcting yoga asana according to time, place and situation. We will also focus on the way of teaching yoga as individual or in a group, with people of different nations, cultures, religions and age. We will teach you creative and effective sequencing asana, yoga theme and business of yoga where you will learn to magnify the people through your communication skills, time management and quality.
Yoga Philosophy, Life Style & Ethics – YPLE
In the Yoga Philosophy, Life Style &Ethics (YPLE) we will focus on yoga philosophies and traditional texts, such as the Yoga sutras and Hatha yoga pradipika yoga, the basics of Sanskrit and pronunciation. We will teach about the basics of Ayurveda, its aims and objectives, and the concepts of health, wellness, and diet from the Ayurvedic viewpoint. Discussion of the ethics of teaching yoga will be including: how the Yamas & Niyamas relate to ethics and the teacher-student relationship. We will teach about Karma yoga, as well. Karma yoga is the art of giving and sharing. It purifies the heart by teaching you to act selflessly, without thought of gain or reward.
Certification
Adwait Yoga School, run by Adwait Foundation®, is affiliated with the highest organization of the world named 'World Yoga Alliance',  and is one of the prestigious teacher training schools in India. Uplifting and maintaining high standards of Yoga, the school ensures higher teachings environment to the students. The curriculum has been designed as per the specifications of World Yoga Alliance, and the skill based courses are taught by well qualified and certified Yoga instructors. Moreover of best teachers, the yogic environment and international standards make our certification more authentic and bonafide.
Eligibility
Two kinds of aspirants can participate and study our 200 Hour Yoga Teacher Training Course, those who wish to teach yoga as a profession, and those who wish to develop their personal practices.
Followings are the points related to eligibility for 200 hrs YTTC program:
Those who want to be a Professional and Spiritual Yoga Teacher.
Those who want to develop the personal practices and strength.
Previous experience of University/College certificate not required, Yoga education is the same for all.
English as a first or second language is necessary. (We have students who speak many different languages, but English is the medium of teaching. It does not matter if you only understand a little. Our teachers will make sure you understand the subject matter.)
Students between the age of 15 to 60 years can join the TTC at Adwait Yoga School. Students must be healthy.
Students need to have an open mind and leave their ego or position outside the Center.
Students who show discrimination regarding religion, countries, class or caste will not be allowed to enroll at our school.
Recommended Reading
Asana Pranayama Mudra Bandha (APMB) – Swami Satyananda Saraswati Ji
Yoga Darshan – Swami Niranjanananda Ji.
Prana and Pranayama – Swami Niranjanananda Ji.
Four Chapters on Freedom – Swami Satyananda Saraswati Ji
Refund Policy
It is advised that all students carefully read our Terms & Conditions, and consider the time and resources required for the course before applying for the teacher training course at Adwait Yoga School.
The advance deposit that submitted for YTTC courses or for any retreats or the workshops, is Non-refundable.
In case of any emergencies if student can't attend the course, Adwait Yoga School can permit them to join other scheduled course within the period of 12 months.
No Refunds, Credits or Transfers are done on cancellation, during or after the course starts.
Visa and Travel Insurance
Please arrange a tourist visa and good travel insurance before leaving your home country.
Please don't bring valuables, if necessary than keep them safely.
Orientation Meeting
We hold an orientation meeting prior to training to ensure students knows where the classes are, to familiarize with the course facilities and to allow students to meet each other and their teachers. Student attendance at the orientation day is mandatory.
Assistance
If you have any questions related to registration, payment, visa or any other query about our YTTC program, retreats, workshops, or other events, please feel free to write us anytime at – [email protected], or contact at WhatsApp: +91-9212774778. We would be glad to help you out.
Bank Details for Money Transfer:
Account Name: ADWAIT YOGA AND HEALTH SERVICES PRIVATE LIMITED
Current A/c Number: 639401010050357
IFSC Code: UBIN0563943
MICR Code: 110026112
BIC Code (Swift): UBININBB
About Adwait Yoga School (AYS)
Adwait Yoga School (AYS), run by a charitable organization named Adwait Foundation®, is an authentic Yoga School of India, and accredited by World Yoga Alliance, which offers the Yoga Teacher Training Courses (YTTC), Pranayama Teacher Training Courses (PTTC), Meditation Teacher Training Courses (MTTC), Yoga classes, Yoga Workshops, Yoga Retreats, and other Yoga programs to the worldwide students.
AYS provides the Certification in 50 hours, 100 hours, 200 hours, 300 hours, 500 hours Yoga Teacher Training Courses. In addition AYS also offers 6 months/1 year Diploma Course in Yoga. The certificate is issued by the world's recognized Yoga organization i.e., World Yoga Alliance.
AYS offers the training at New Delhi (India) as well as some other places like Rishikesh, which is also known as "Yoga Capital of the world", Dharamshala (Himachal Pradesh, India), Uttarkashi, Indian Himalayan place, and Goa, which makes AYS special and desirous place to learn, practice and master Yoga, Pranayama, Meditation and Healing.
Adwait Yoga School is one of the Authentic teacher training schools of India. Its uncompromising principles to maintain the premium quality and highest standards of Teachings & Trainings of Yoga, Pranayama, Meditation and Spiritual Awakening, makes it one of the best Institutions of world, for the sincere practitioners and teachers to deepen, broaden, enrich and enlighten the learning and practices.
The curriculums of all Teacher Training Courses have been designed based on the ancient and authentic Text books of Yoga, Pranayama, and Meditation, which also meet the standard and specifications of World Yoga Alliance. The skill based courses are taught by certified and qualified Yoga Masters.
AYS conducts the following programs throughout the year:
Regular Yoga Classes
Yoga Teacher Training Courses (YTTC): 50 hrs, 100 hrs, 200 hrs, 300 hrs, 500 hrs, 6 months, 1 year course.
Meditation Teacher Training Course (MTTC)
Mindfulness Teacher Training Course (MTTC-2)
Pranayama Teacher Training Course (PTTC)
Ayurveda Panchakarma Course
Workshops
Retreats
Lectures
To know more about us, you can visit our website: www.adwaityoga.com
Interested participants can register and enroll in any of scheduled courses in advance.