Goddess Saraswati
Her expression is so serene and calm even as She is majestic. She is seated on a white lotus in Padmasana, adorned by a pure white silk sari, has a book in Her lower left hand, Her lower right hand showing the chinmudra, Aksharamala in Her right upper hand, and Amrithakalasam in Her left upper hand. Both eyes are full of compassion. The vehicle assigned to each of the three goddesses also symbolically represent their special powers.
Goddess Saraswathi is the consort of Lord Brahma (Lord of Creation) and is the Goddess of wisdom and learning. Saraswati is the one who gives the essence (sara) of our own self (swa). She is considered as the personification of all knowledge – arts, sciences, crafts and other skills. She has a beautiful and elegant presence, is pure white in colour, clad in a white sari, seated on a white lotus, representing purity and brilliance. She has four hands representing four aspects of human personality in learning; mind, intellect, alertness and ego. She has the sacred scriptures in one hand and a lotus (a symbol of true knowledge) in the second. With her other two hands she plays the music of love and life on the veena.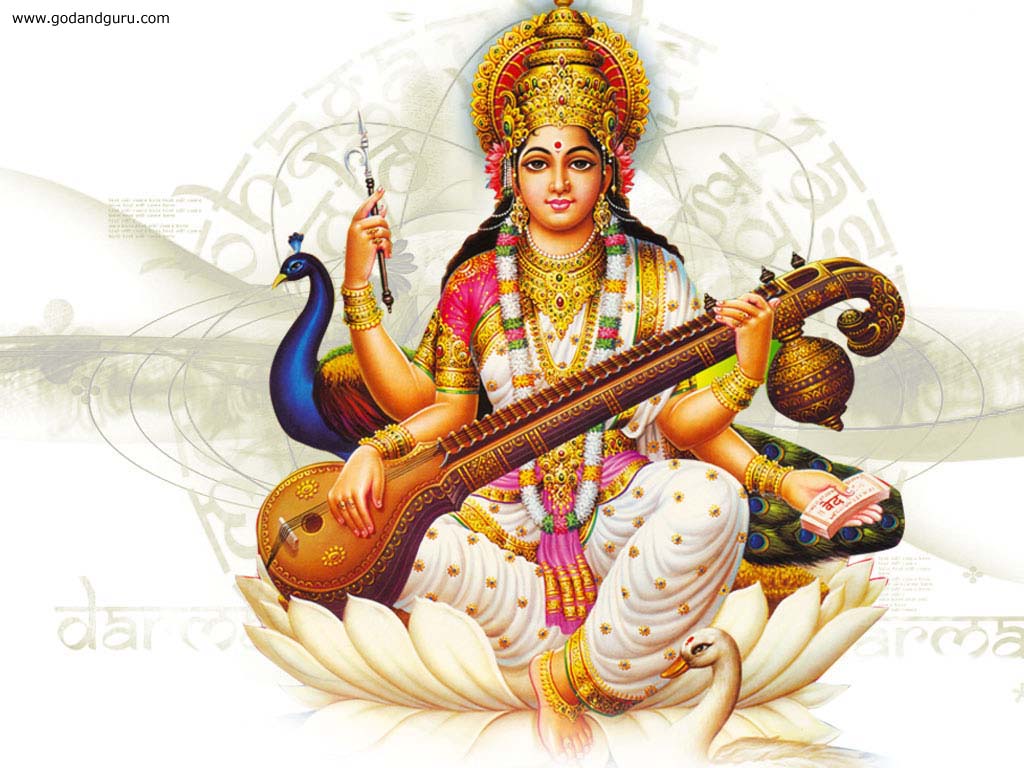 She is dressed in white (sign of purity) and rides on a white goose (swan). The swan is known for its peculiar characteristic of being capable of separating water from milk, indicating that we should possess discrimination in separating the bad from the good. The seat being a lotus or peacock implies that the teacher is well-established in the subjective experience of truth. When sitting on a peacock she reminds us that wisdom suppresses ego.